12 signs. 12 personalities. 12 dresses.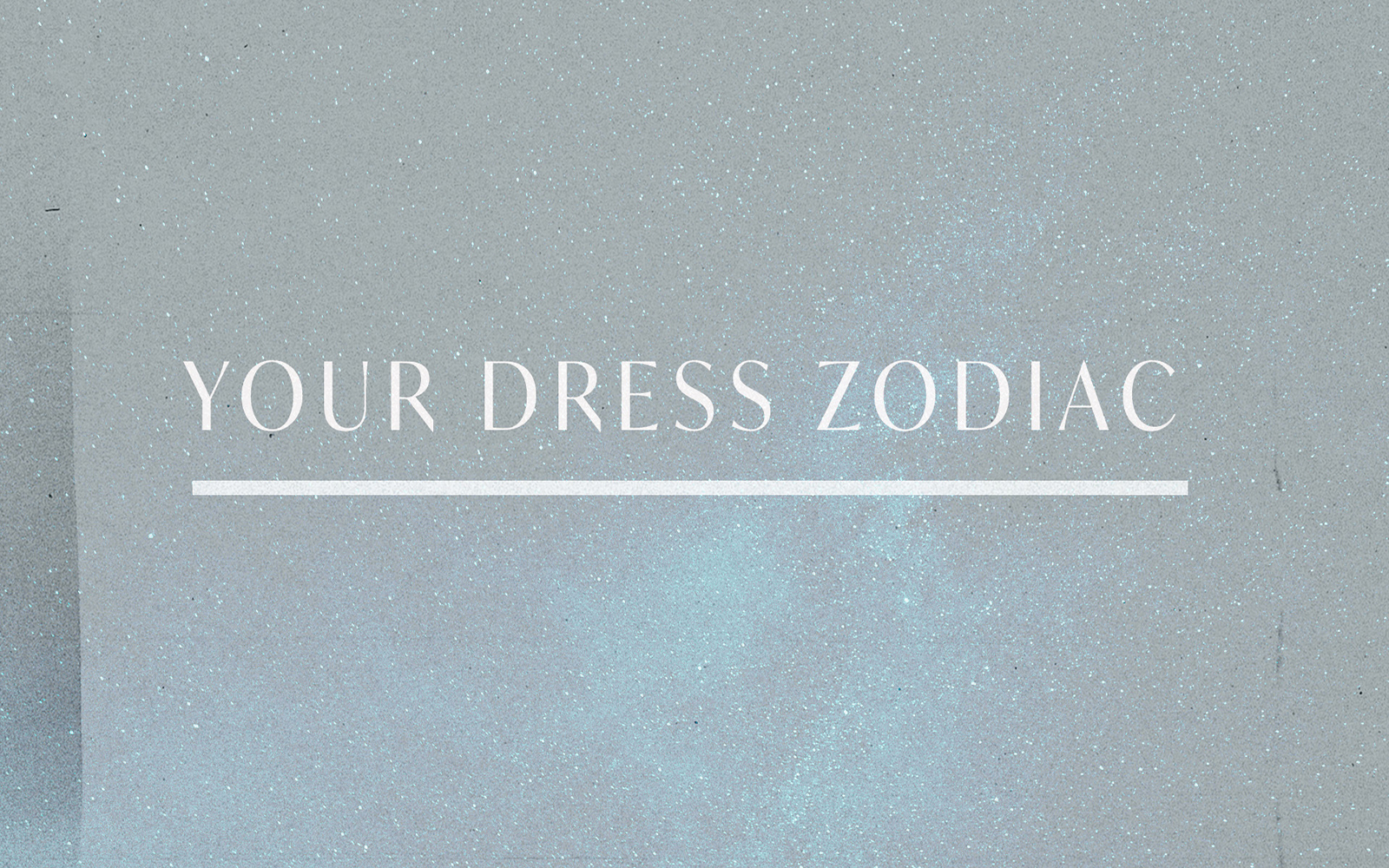 When it comes to astrology, it's fun to see what your sign matches up with, whether it's personality traits, love matches, or in our case: the perfect dress. We decided to dive into the zodiac world, no sign is alike, and neither should their fashion style.
Aries (March 21st - April 19th)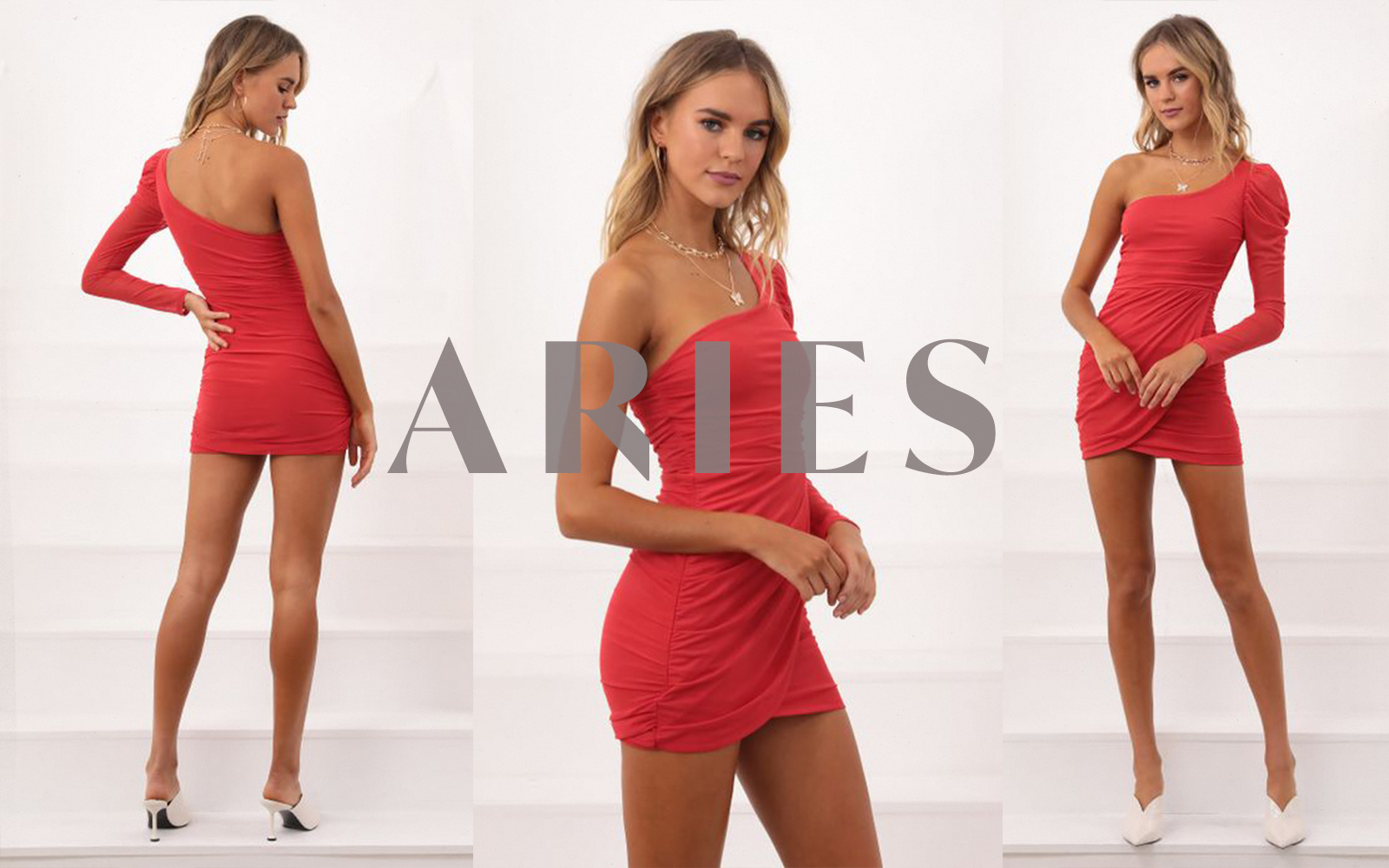 Larissa Puff Sleeve Mesh Dress in Red
Don't mess with an Aries, or you'll get the horns. Our Aries babe is filled with passion, energy, and initiative. Red is the color of excitement and assertion, and Aries doesn't like to be ignored, and that's why red is their color. It demands attention. That's why our Larissa dress is made for our Aries girls out there, this trendy one-shoulder dress is classy, elegant, and attention-grabbing. With its mini puff sleeve, an asymmetric hem, and ruched detailing for a flattering fit. All eyes will be on you as soon as you walk in.
Taurus (April 20th - May 20th)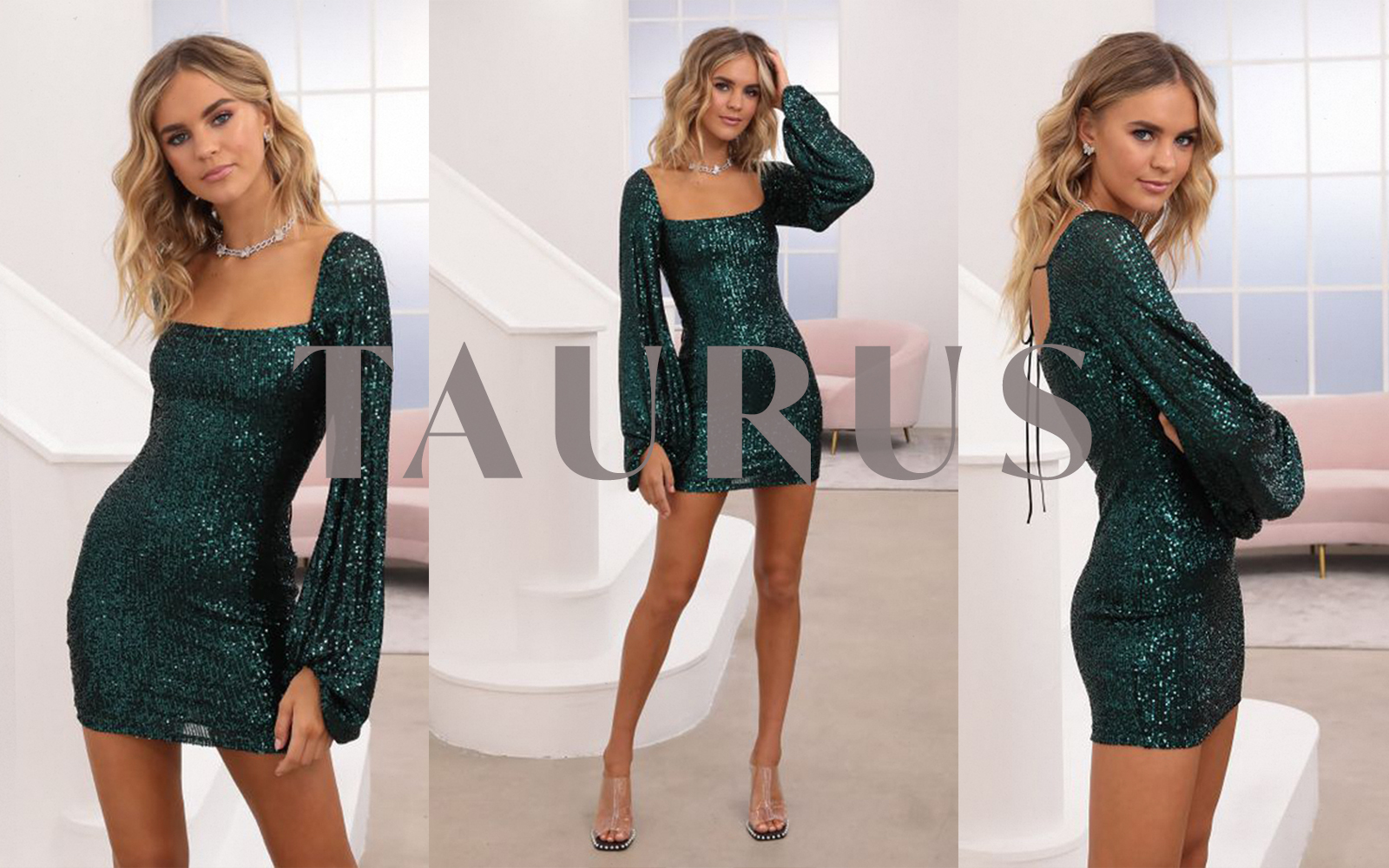 Shantelle Sequins Dress in Emerald Green
In a perfect world, our Taurus girl would spend all-day bathing in a tub filled with essential oils, but at the same time, she's ambitious, focused, and resilient. Taurus fresh green nurtures their spirit and reinforces its connection to nature and growth. That's why it didn't shock us that the Taurus's color is green. This dress was made for the Taurus, our Shantelle Sequins dress, a dress that made for a celebration of accomplishments for our ambitious sign. Featuring a gorgeous square neckline, drape sheer sleeves, and adjustable tie in the back, get ready to have heads turn.
Gemini (May 21st -June 20th)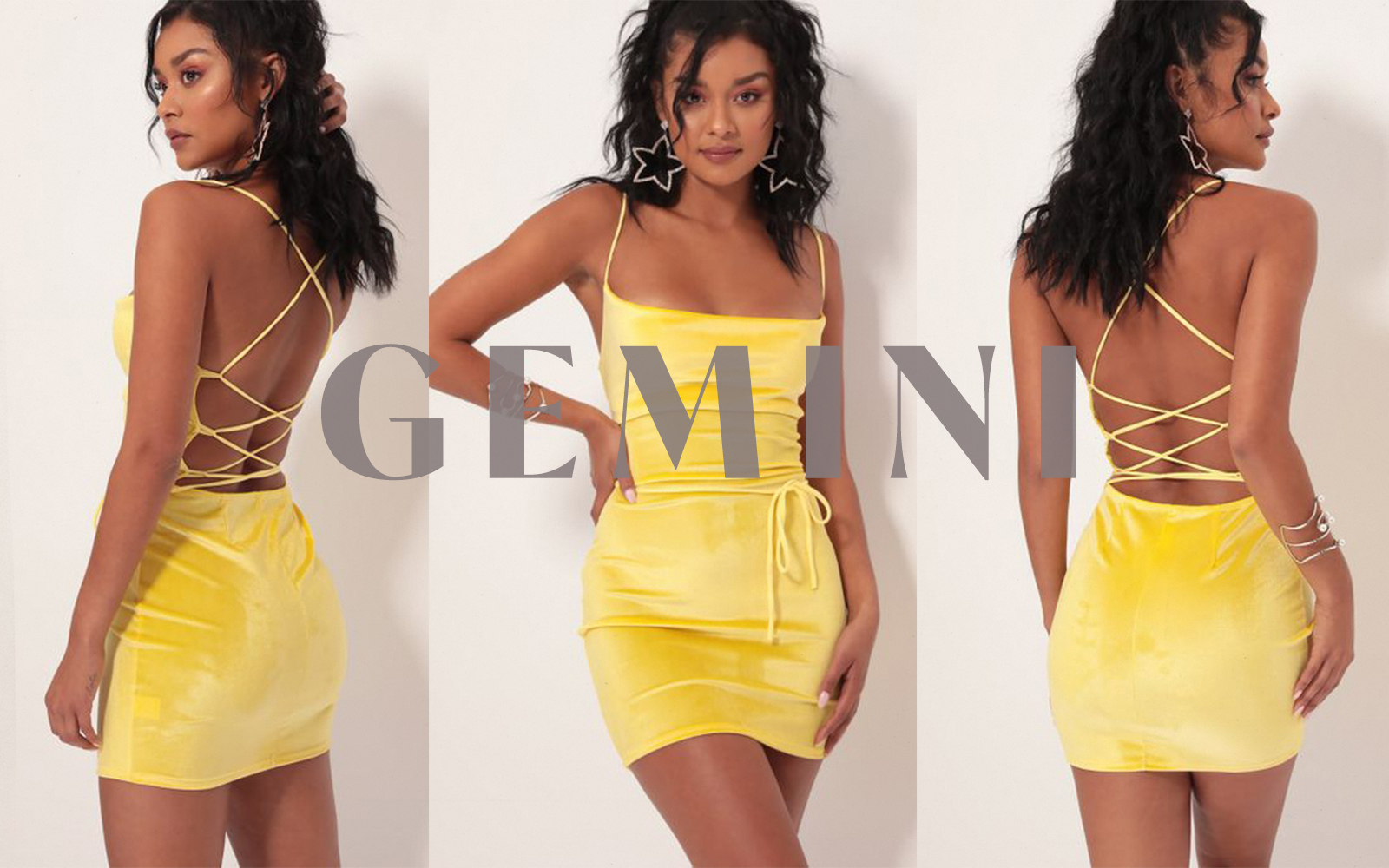 Cowl Neck Velvet Dress in Yellow
Our Lucy "twins" are inspiring, and that's why Gemini's color is yellow. It lifts their spirits and triggers curiosity, and brilliant thoughts. Mimicking the warm Sun, yellow lightens and brightens everything around it. They are the type of girls who wish they could clone themselves to just get everything done. And they want to get everything done so they can go out and wear our Cowl Neck Velvet Dress in Yellow, where they know the color will enhance their mental powers and focus. This dress is flattering, and flirty, with a square neckline, and an adjustable tie-back finish that can be tied up in a back bow or around the waist for a little belt look.
Cancer (June 21st - July 22nd)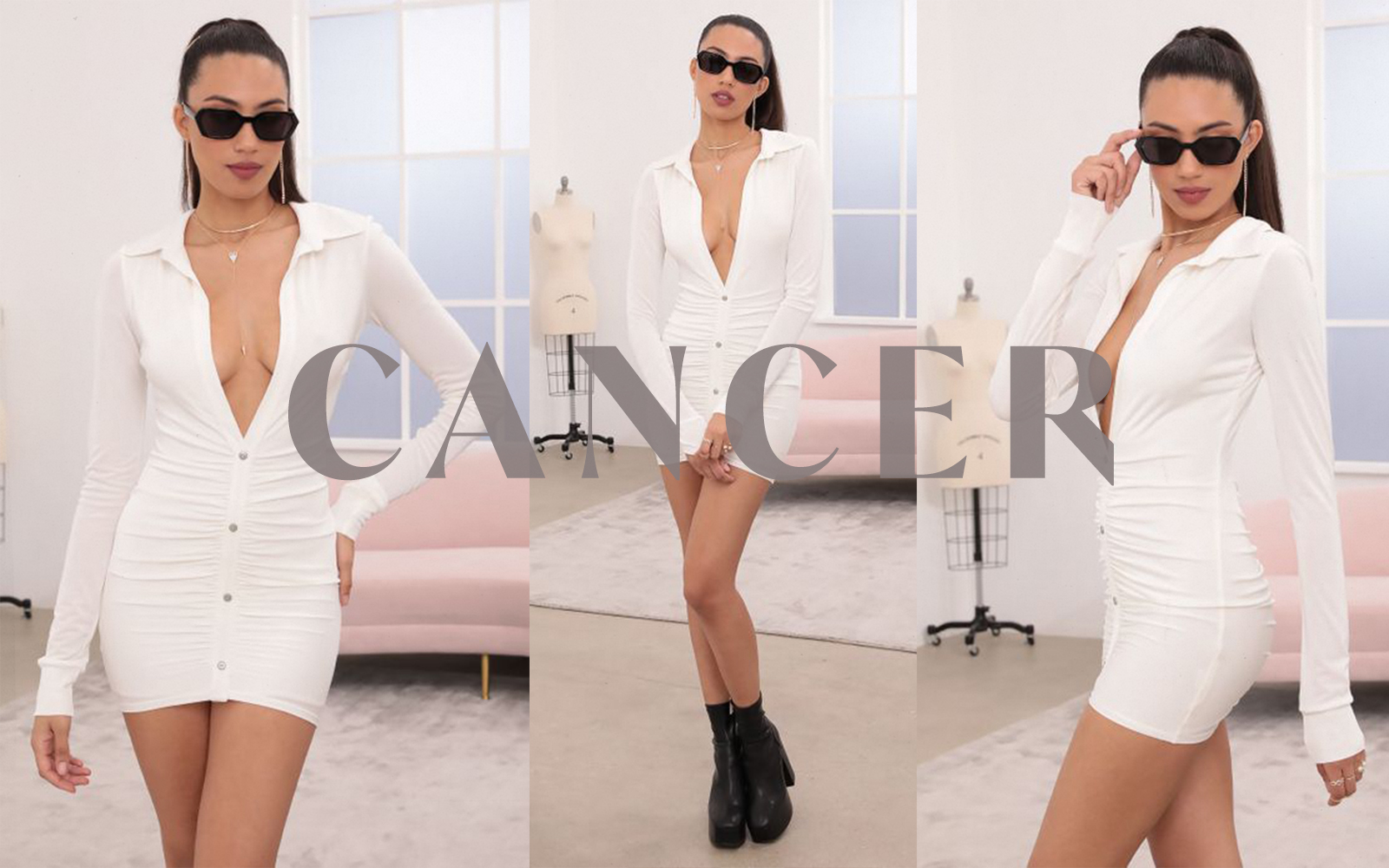 Nova Slinky Shirt Dress in White Shimmer
Cancers are known to have a sixth sense, they are highly intuitive and their psychic abilities manifest in tangible spaces, such as, walking into a room and effortlessly picking up the energies in a room. For this reason, bright white and silver are the colors that represent Cancers, with their intuition and providing a clean, clear state. Our Nova Slinky Shirt Dress in White Shimmer is a reminder of the shining face of the Moon, for our dear Moonchild. The Nova dress is a shirt dress, but with a twist. A flattering draping in the front and back that hugs perfectly. A dropped neckline that charms your silhouette, not to mention it's made out of our chic slinky fabric that is comfortable to wear from brunch to dinner.
Leo (July 23rd - August 22nd)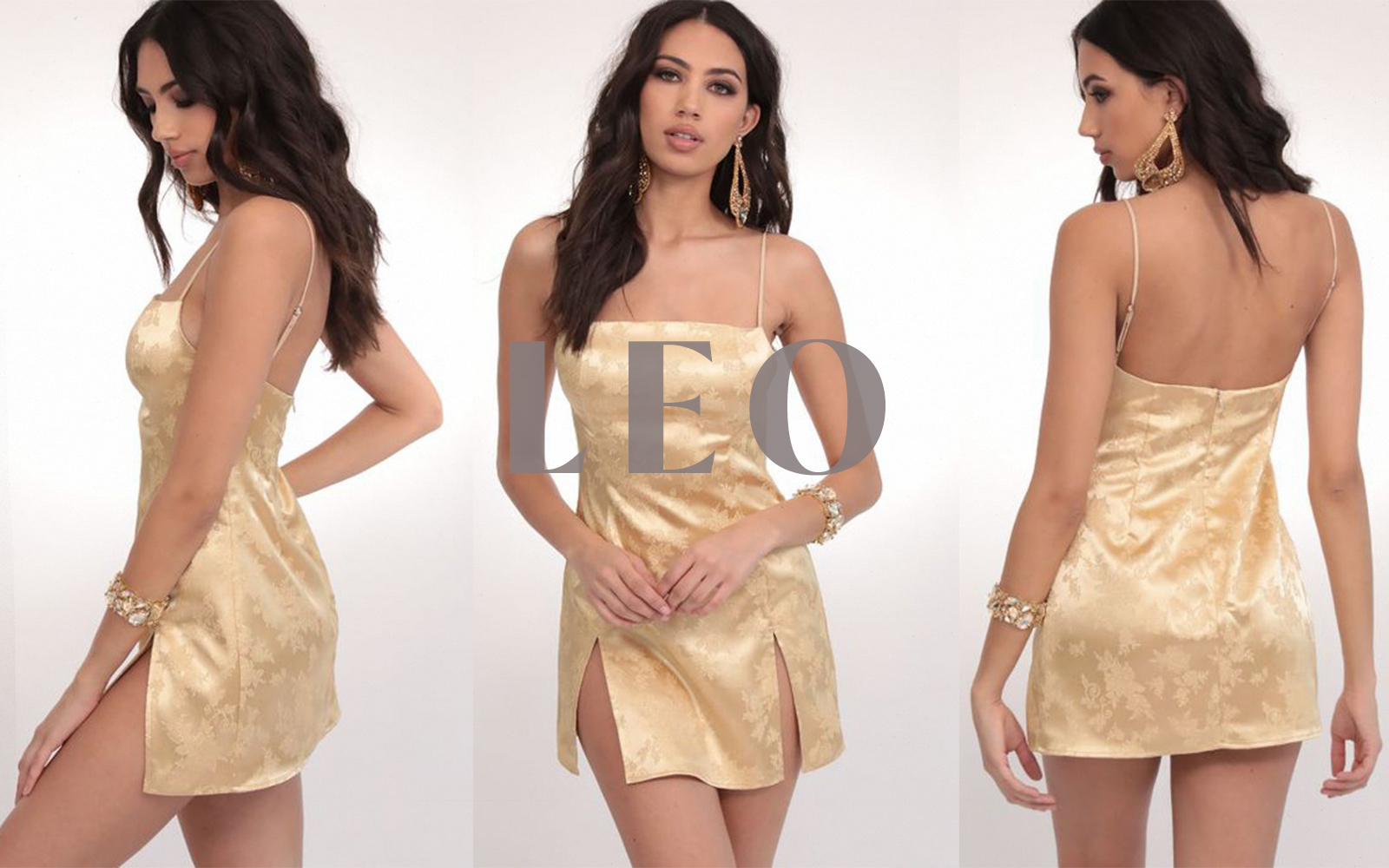 Martina High Slit Jacquard Dress in Champagne
All hail the Leo, our Lucy lions love to be in the spotlight and celebrate themselves. Gleaming gold empowers Leo's warm heart and strengthens its positive spirit. Shining with royalty and class, gold has been a symbol of power and prestige. Gold gives Leo the attention it wants and supports its generous nature and warm, optimistic outlook on life. And for our lioness, the Martina High Slit Jacquard Dress was made for them to sit on the throne. This sparkling floral dress is fun and full of energy. Featuring a trendy square neckline, adjustable straps, and double high slits on the princess seams. Made for the life of the party, just like the Leo we all know and love.
Virgo (August 23rd - September 22nd)
Poppy Two Piece Set In Hunter Green
The earth sign that is a perfectionist at heart and isn't afraid to improve skills through diligent and consistent practice, but one that is grounded and focused on continuous growth is our Virgo. A sign that is very grounded, it seems obvious that the colors that represent a Virgo are classic, natural brown and green. We chose to focus on green because it is the color of growth, and strengths the Virgo's self-improvement. This Poppy Two-Piece Set in Hunter Green is a sexy, but classic two-piece look, this texture set is the perfect addition to a Virgo's closet. Made in our hunter green ottoman fabric, this versatile style features geometric seams to make it more than just a simple skirt. Perfect to wear together, or even separately depending on where they decide to go.
Libra (September 23rd - October 22nd)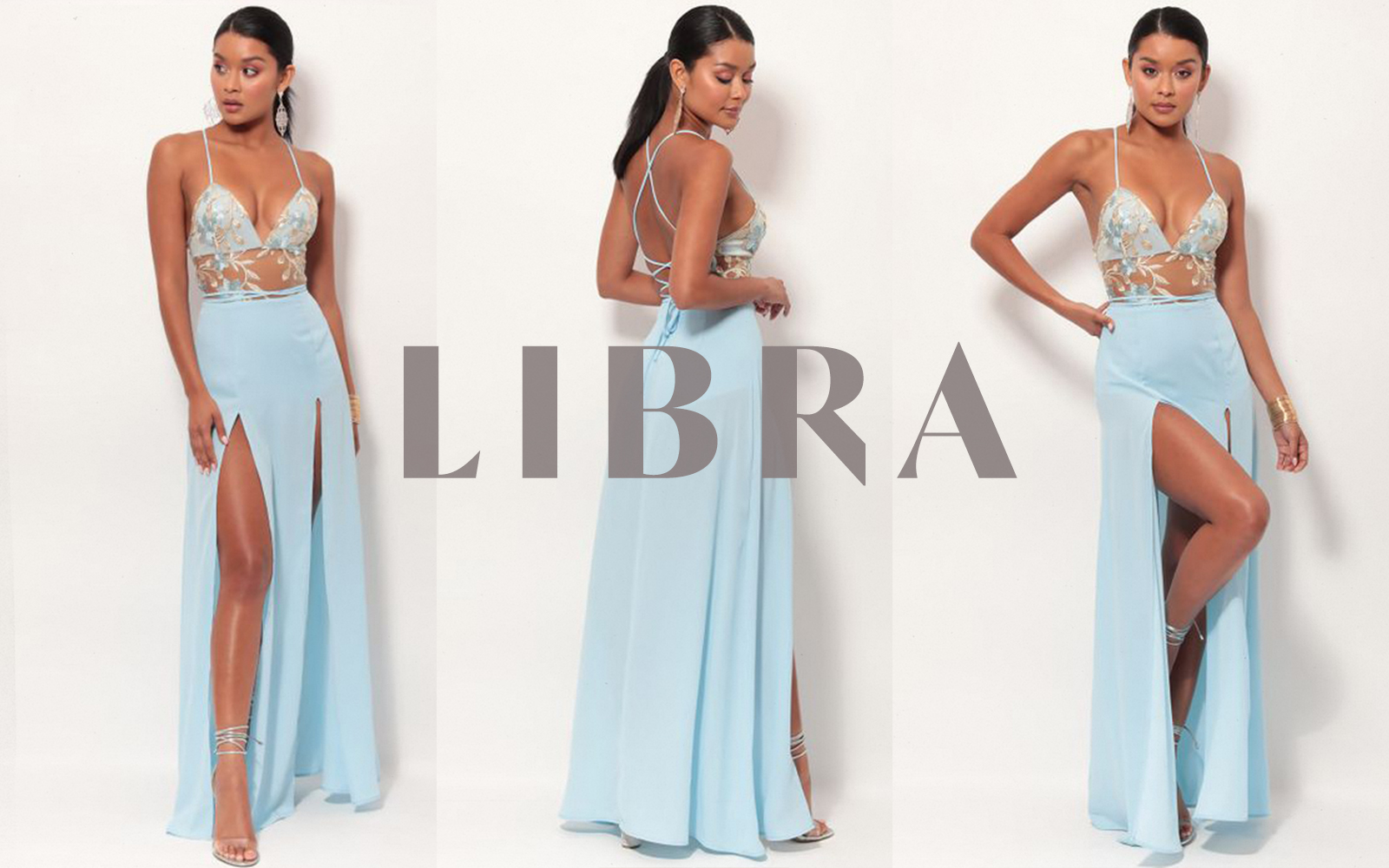 Loveable Gold Lace Maxi in Sky Blue
Libra's are all about balance and harmony, which isn't surprising that their colors are airy pink and light blue, which help Libra's open their heart and soften their presence. These soft colors bring a calming and likable present to our Libra's personality. As we focused more on the light blue because it increases clarity and balance for the dress, the pink invokes Libra's sweet and loving nature. Our lovable Gold Lace Maxi in Sky Blue is classy, elegant, and flattering for our sweet Libra's. Featuring beautiful gold and sky blue floral embroidered mesh, lace-back detailing, and hidden shorts as lining.
Scorpio (October 23rd - November 21st)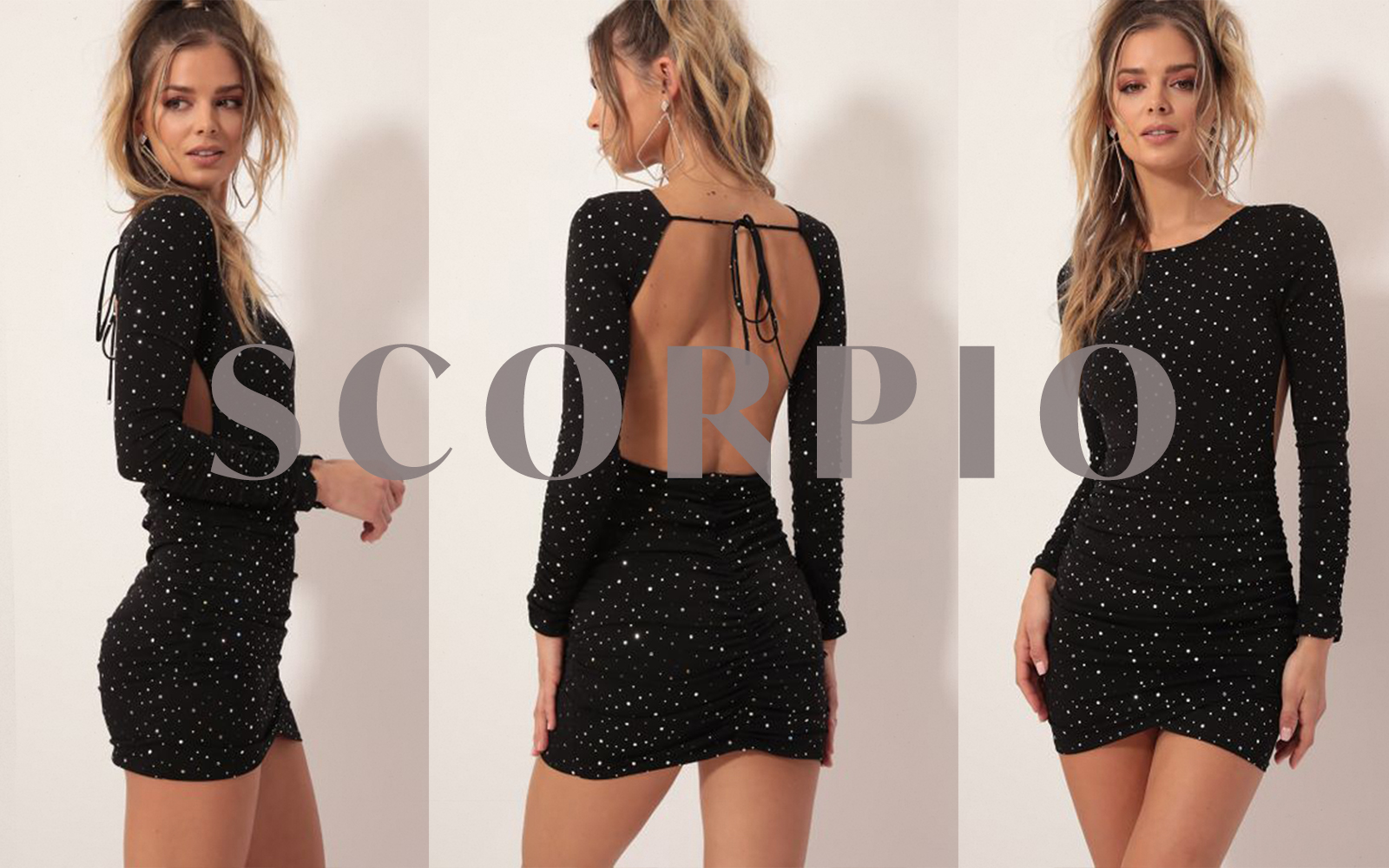 Josie Twinkling Open Back Dress in Black
Ms. Misunderstood is an understatement when it comes to our Lucy Scorpios, with their incredible passion and power, they are often mistaken for a fire sign when they are a water sign. They develop their strength from the psychic, emotional realm. It's not surprising to find out that the Scorpio's color is black when the color represents the depth where the Scorpion resides strengthens its drive to look below the surface and questions everything. In western culture the color black is associated with death and rebirth, enhancing Scorpio's strength of letting go and its ability to transform itself. So, of course, we had to choose the Josie Twinkling Open Back Dress in Black for our Scorpios, it's a dress that is classy, fabulous, and stunning. Featuring an asymmetric cross-over hem, flattering ruched detailing, and a sexy open back.
Sagittarius (November 22nd - December 21st)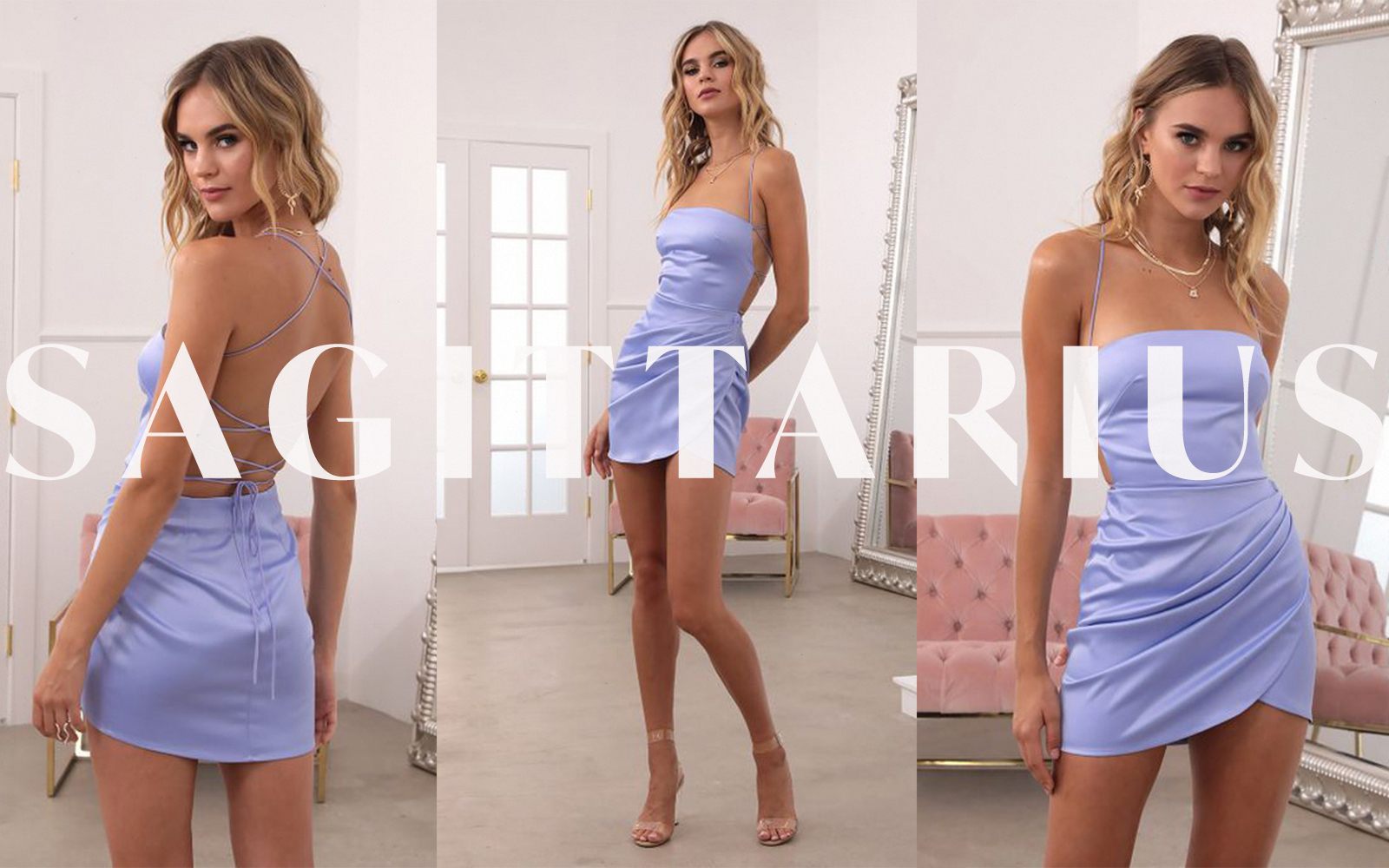 Lea Love Affair Dress in Periwinkle
Purple is known for the color of spirituality and awareness, it pushes Sagittarius' philosophical mind towards enlightenment and openness. Also giving our Sagittarius beauties natural luck and positive nature, and drives to continuously broaden their horizons. This is why we picked the Lea Love Affair Dress in Periwinkle, a show-stopping piece featuring a classy square neckline, side pleat detailing, a lace-back for an adjustable fit.
Capricorn (December 22nd - January 19th)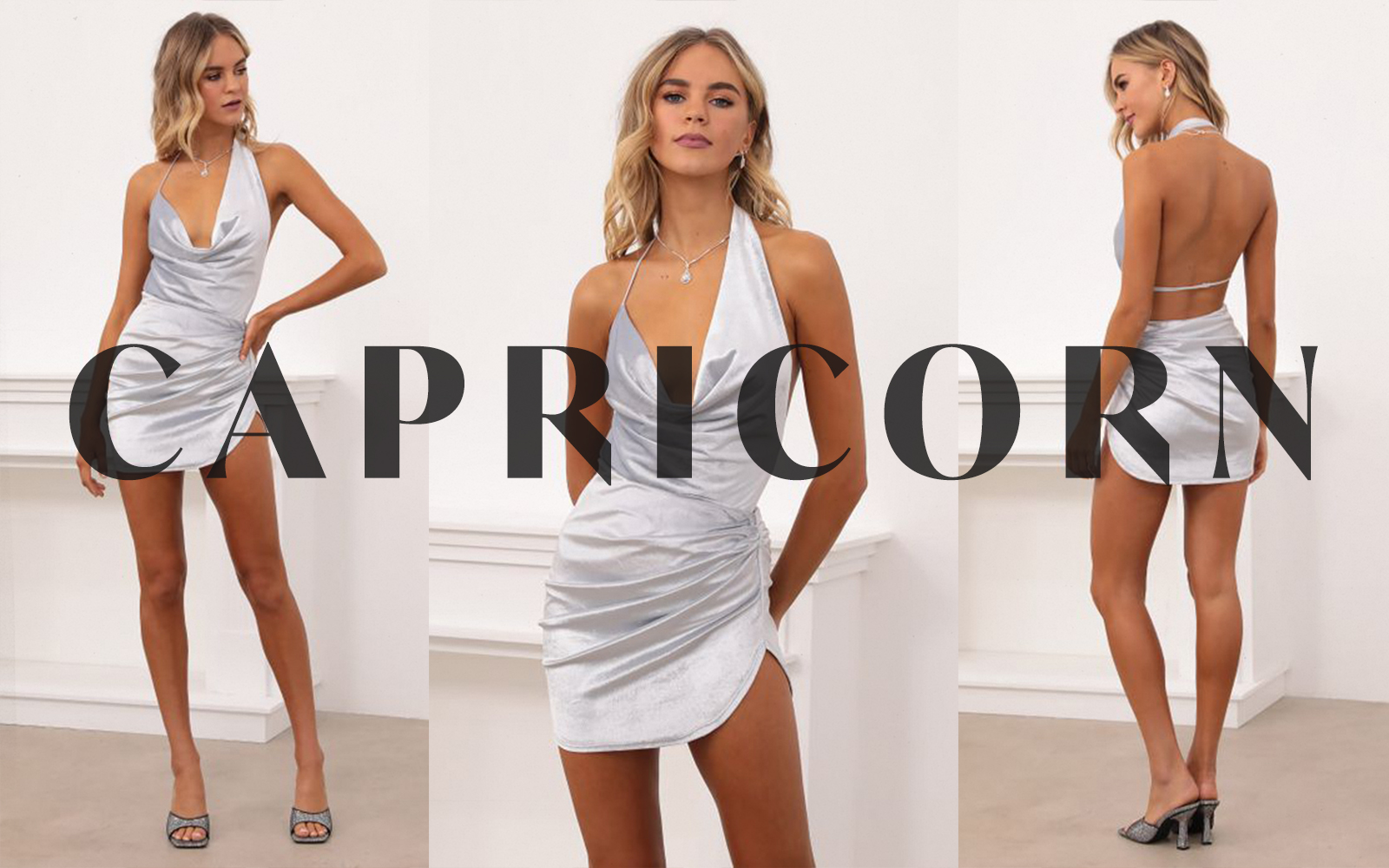 Daisy Drape Dress in Silver Velvet
What better three words to describe a Capricorn other than solidity, reliability, and traditionalism? As the Capricorn is the last of the earth sign, its colors sound like it too, earthy gray and brown, which helps them find the strongest and most practical in life. The gray itself increases the conservation nature, while the brown helps the Goat's steadfast determination as it strives to reach its goals. And if this dress doesn't show confidence in what they are doing in life, then we don't know what does. Our Daisy Drape Dress in Silver Velvet is perfect for our 'does.' Our dress features drape side detail, a cowl neck, and an adjustable strap. A leg slit and made out of our dreamy velvet fabric gives it that sexy edge.
Aquarius (January 20th - February 18th)
Cowl Neck Velvet Dress In Royal Blue
A calming Lucy, our Aquarius babe. As calming blue helps encourage Aquarius' brilliant ideas and balance its restless energy. It is also said that Aquarius is the most humanitarian astrological sign. The blue represents vastness and creates a smooth flow of ideas, conversations, and experimentation. This is what our Aqua babe will feel like when they're in our Cowl Neck Velvet Dress in Royal blue. This flattening, flirty is made in our popular deep royal blue velvet.
Pisces (February 19th - March 20th)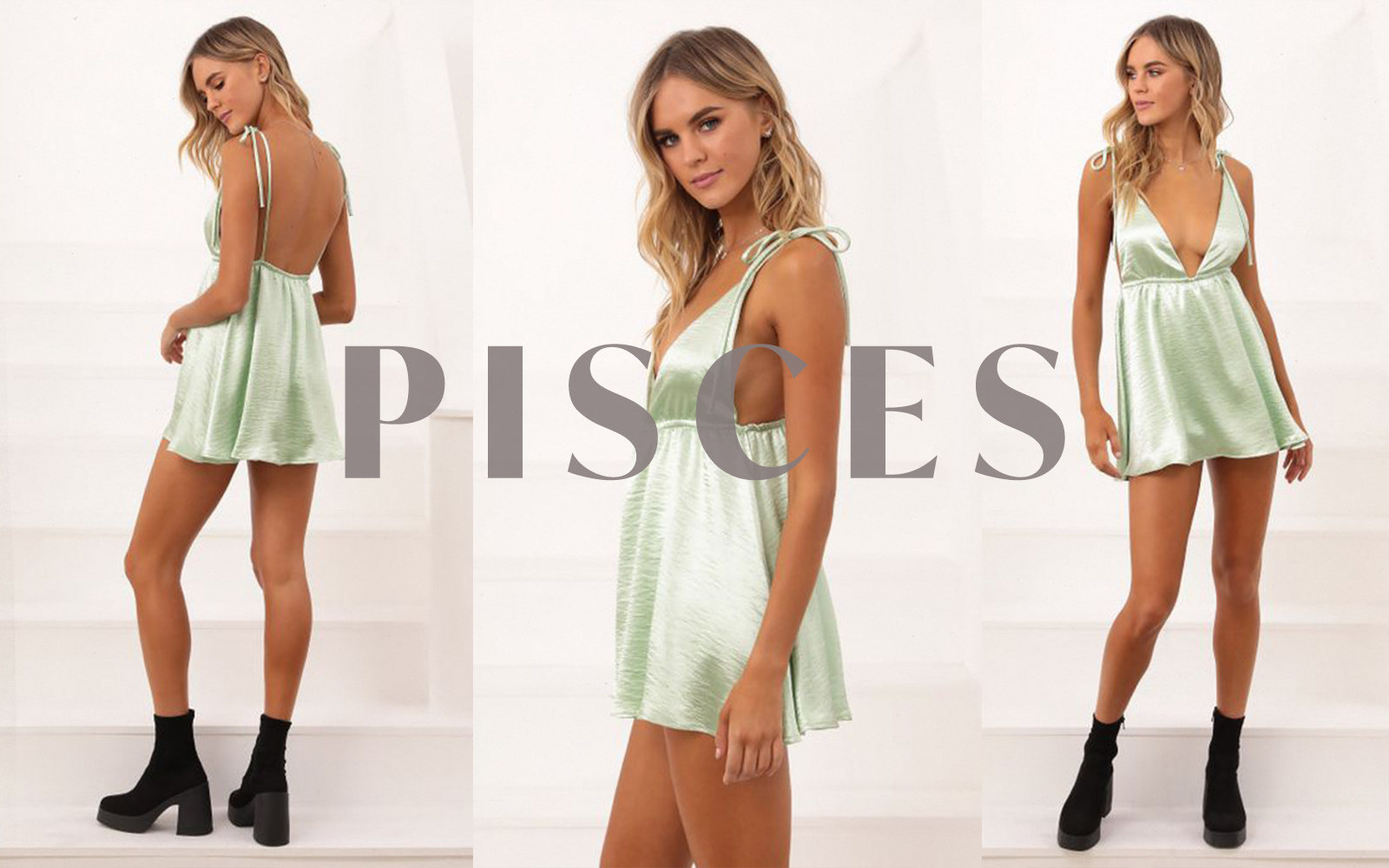 Skye Shoulder Tie Dress in Mint Satin
Our daydreamers, our water sign, and the last constellation of the zodiac. Our Pisces are constantly having their attention divided between fantasy and reality. They absorb every lesson -- the joys, the pain, the hopes, and the fears. Pale green brings healing, renewal and connects Pisces with its subconscious. The perfect green dress for our Pisces to wander in, where they can run in, and be carefree because it's secretly a romper. Made in charmeuse satin, shoulder tie detailing, and an elastic waistband.